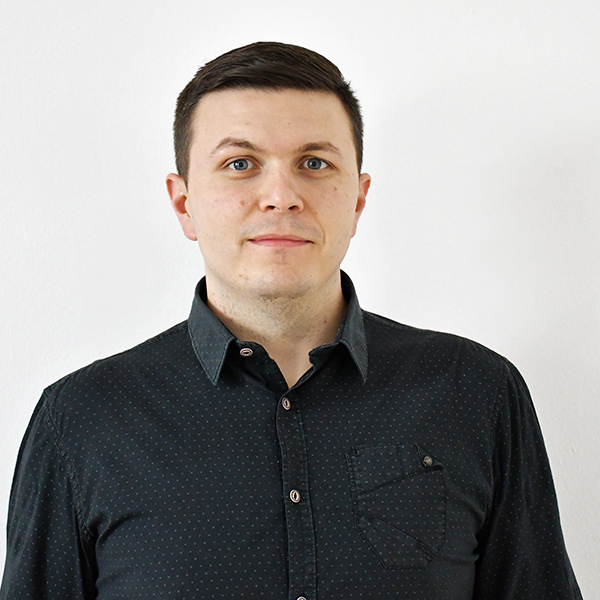 Ime i prezime:
Bojan Matkovski
Titula:
Doktor ekonomskih nauka
Zvanje:
Docent
Organizacija:
Univerzitet u Novom Sadu, Ekonomski fakultet u Subotici, Departman za agrarnu ekonomiju i agrobiznis
Kontakt:
bojan.matkovski@ef.uns.ac.rs
Obrazovanje:
---
Osnovne i master studije završio je na Ekonomskom fakultetu u Subotici na studijskom program: Agrarna ekonomija i agrobiznis. Master tezu pod nazivom: "Poljoprivreda Srbije u međunarodnim ekonomskim integracijama" odbranio je 2013. godine, a doktorsku tezu: "Liberalizacija trgovine i intenzifikacija razmene poljoprivredno-prehrambenih proizvoda zemalja Zapadnog Balkana u procesu pristupanja Evropskoj uniji" odbranio je 2019. godine na Ekonomskom fakultetu u Subotici.
Radno iskustvo:
---
Od 2012. godine zaposlen je na Ekonomskom fakultetu u Subotici Univerziteta u Novom Sadu na Departmanu za agrarnu ekonomiju i  agrobiznis. Njegova uža naučna oblast istraživanja je agrarna ekonomija, a dodatna polja interesovanja su: agrarna politika i razvoj poljoprivrede, ruralni razvoj i politika, trgovina poljoprivredno-prehrambenim proizvodima.
Učešće na projektima:
Erasmus+ Jean Monnet Module Agricultural Policy of European Union and its influence on competitiveness of agri-food products of Serbia (AgriCOM) (620128-EPP-1-2020-1-RS-EPPJMO-MODULE) od 2020. do 2023. godine. KOORDINATOR PROJEKTA

Erasmus+ Implementation of Dual Education in Higher Education in Serbia (DualEdu) (586029-EPP-1-2017-1-RS-EPPKA2-CBHE-SP) od 2017. do  2020. godine.

Erasmus+  Professional Development of Vocational Education Teachers with European Practices (PRO-VET) (598698-EPP-1-2018-1-FI-EPPКА2-CBHE-JP) od 2018. do 2021. godine.

Erasmus+ Dual Education for Industrial Automatization and Robotics in Kazakhstan (DIARKAZ) (609757-EPP-1-2019-1-RS-EPPKA2-CBHE-JP) od 2020. do 2023. godine.

Sustainable Agriculture and Rural Development in terms of the Republic of Serbia strategic goals implementation within Danube region, Projekat Ministarstva obrazovanja i nauke Republike Srbije, No. 46006, od  2015. do 2020. godine.
Ključne publikacije:
---
Matkovski B., Zekić S., Jurjević Ž., Đokić D. (2021). The agribusiness sector as a regional export opportunity: evidence of the Vojvodina region. International Journal of Emerging Markets, ahead-of-print ISSN: 1746-8809 DOI: 10.1108/IJOEM-05-2020-0560
Matkovski B., Đokić D., Zekić S., Jurjević Ž. (2020). Determining Food Security in Crisis Conditions: A Comparative Analysis of the Western Balkans and the EU. Sustainability, 12(23), 9924 ISSN: 2071-1050, DOI: 10.3390/su12239924
Matkovski B., Kalaš B., Zekić S., Jeremić M. (2019). Agri-food Competitiveness in South East Europe. Outlook on Agriculture. 48(4), 326-335.  ISSN: 0030-7270 DOI:10.1177/0030727019854770
Jeremić M., Zekić S., Matkovski B., Kleut Ž. (2019). Spatial price transmission in pork market in Serbia. Custos e agronegocio, 15(2), 328-346. ISSN: 1808-2882
Zekić S., Kleut Ž., Matkovski B., Đokić D. (2018). Determining agricultural impact on environment: Evidence for EU-28 and Serbia. Outlook on Agriculture, 47(2), 116-124. ISSN: 0030-7270 DOI: 10.1177/0030727018768016
Matkovski B., Zekić S., Savić M., Radovanov B. (2018). Trade of agri-food products in the EU enlargement process: Evidence from the Southeastern Europe. Agricultural Economics – Zemědělská ekonomika. 64(8), 357-366. ISSN: 0139-570X (Print) 1805-9295 (Online), DOI: 10.17221/134/2017-AGRICECON
Matkovski B., Radovanov B., Zekić S. (2018). The Effects of Foreign Agri-food trade Liberalization in South East Europe. Economcky casopis. 66(9), 945-966. ISSN: 0013-3035